Future customs procedures
Schedule for the introduction of the Union Customs Code
The Union Customs Code is being introduced in stages over a transition period. You can follow the work on this page. Swedish Customs' national schedule will be updated as work progresses, and we will be publishing dates of relevance for the introduction of, and migration to, new systems.
In early October 2022, the European Commission published proposals to extend the deadlines for introducing some of the systems which, according to the relevant legislation, were due to be launched on 31 December 2022 and in spring 2023 respectively. This affects presentation notification of modes of transportation, presentation notification of goods, temporary storage and national customs declaration systems and phase 2 of the import control system.
The proposals are directed to Member States that have applied for exceptions. In some cases, the proposals are linked to conditions that must be met by both customs authorities and businesses. There are currently ongoing discussions around these proposals at the EU level and a decision is expected in December.
The proposals will affect the national schedule for the implementation of the national system for standard customs declaration for imports. The deadline for businesses to implement the standard customs declaration for imports, including special procedures and special tax areas, have been extended to 31 December 2023, according to the proposal from the European Commission. Sweden has applied for an exception, and once the decision has been made at the EU level, we will amend the national plan in accordance with the deadline in that decision.
We recommend that you follow the plans you have already made for implementing the system for standard customs declaration.
Standard customs declaration for imports
As of 15 March 2022, you may submit standard customs declarations for imports in the new import system. By 31 December 2023, all standard customs declarations for imports should be submitted using this system.
The feature for submitting standard customs declarations for special procedures and special areas of taxation will be launched in February 2023. From 1 January 2023, all standard customs declarations for special procedures and special tax areas should be submitted in the new system.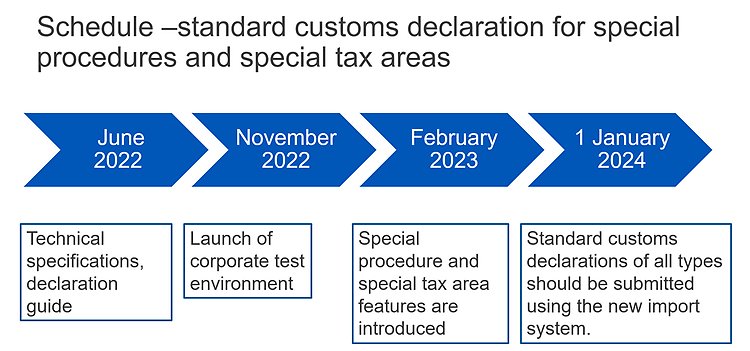 Customs declaration of low-value consignments (H7)
Update of the transiting system, NCTS, Phase 5
Import control system (ICS2) for air-freight
Import control system, (ICS2 phase 3), other modes of transportation
This system will be introduced on 1 March 2024 and all affected actors should submit information in the new system by Q1 2025. Traffic from Norway and Switzerland will still be exempt from the entry summary declaration requirement, as Norway and Switzerland are part of the Security Zone.
Presentation notification for goods transported by air
Presentation notification for goods transported by other modes of transportation
From 1 March 2024, presentation notifications of goods transported by other modes of transportation should be submitted with reference to the entry summary declaration, with the exception of goods arriving by road from Norway. This will bring a change in procedures and new information requirements for actors submitting information.
Further analysis is required to determine how to manage the interface to the current information system via the Maritime Single Window (MSW) while awaiting launch of the European Maritime Single Window (EMS
Temporary storage declaration
Swedish Customs will implement a digital declaration for temporary storage by 2024. Until then, a transitional solution will be used. For goods transported by air, temporary storage declarations should be submitted by e-mail. Until a solution has been developed for the European Maritime Single Window, the temporary solution in the maritime flow used in conjunction with temporary storage declarations will be used, i.e., the information will be submitted via Maritime Single Window (MSW).
Declarations of goods delivered by road will be seen as temporary storage declarations. Transit declarations in NCTS will be considered temporary storage declarations, which means that a separate temporary storage declaration will not be required for goods in transit.
The development is ongoing and the new system for managing the export procedure is scheduled for launch in Q4 2024.
The purpose of the new system is to align our export procedures with the new EU legislation. This change will bring digitalised export and exit procedures.
The development of the new export system will, among other things, include support for standard customs declarations, simplified declarations, ancillary declarations, exit presentation and centralised clearance. The scope of the change is outlined in the European Commission's specifications for AES and will bring changed procedures and a new procedure for actors submitting information, in addition to extended IT support.
New actors must submit information to Swedish Customs in the context of introducing the new system for export procedures.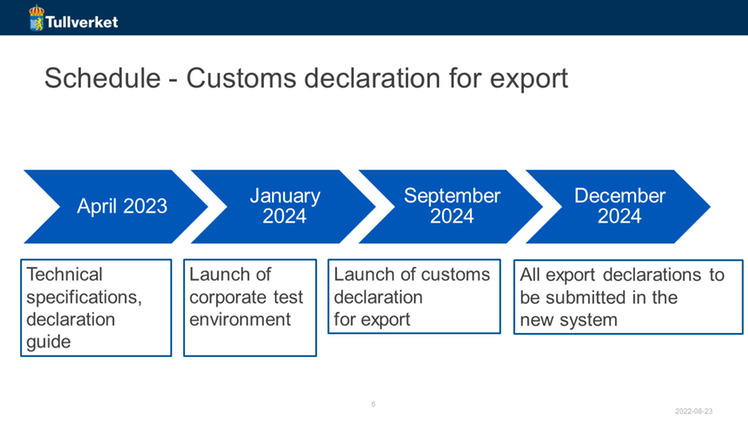 Simplified declaration and entry in the declarant's records

The transition to simplified declarations and entries in the declarant's records for imports is planned for 2024.
One of the more significant changes is that 10-digit commodity codes will be required in the simplified declaration.
In the time until the transition has been completed, you may keep using the current regulations and data provision, as you do today.
Centralised customs clearance
The two phases of centralised customs clearance will be introduced concomitantly in Sweden. This will take place during Q1 2025. Centralised customs clearance for exports will go live as the new export system is introduced.
Proof of Union Status (PoUS) will be introduced in two phases, where T2L/F will first be digitalised with a planned launch in Q1 2024. Phase 2, which includes customs manifests, will be launched together with EMSW in Q3 2025.
European Maritime Single Window
The European Maritime Single Window will ensure that all ships reports are made to a single point of contact per Member State. The Swedish Maritime Authority is responsible for this point of contact. It will be possible to submit required for customs purposes, i.e., notification of arrival of goods and temporary storage, using this single point of contact.
The launch is scheduled for Q3 2025. The EMSW will then replace the Maritime Single Window, the current system.
Certex is a system for exchanging information about certificates and authorisations needed for import and export, which are issued by authorities other than customs authorities.
Any certificates or authorisations that are currently issued on paper, will subsequently be available digitally on Certex. With time, this will facilitate the management of authorisations and certificates for businesses and customs authorities.
Scheduled analytical work
NCTS, Phase 6, will facilitate the submission of safety and security information in the upgraded NCTS system. Information in transit declarations that are linked to an entry summary declaration must be adapted to Annex B, as the NCTS, Phase 5, applies provisional regulations to safety and security information.
Electronic transport document
The electronic transport document allows goods to be transited via the digital systems used by the economic actors. It may be used for transport by sea and air, and is scheduled to be introduced in 2025.
Customs warehouse upgrade
Our system for customs warehouses, implemented in 2016, needs to be upgraded to comply with the Union Customs Code. This work is scheduled for 2024.
Binding Value Information and Binding Origin Information
There are plans to launch additional central IT support resources, similar to those for Binding Classification Information (BCI), for Binding Origin Information (BOI) and Binding Value Information (BVI) by 2025.

They will consist of a central system with a central interface for traders to manage applications, but also central functions to manage and store these cases.
A database for digital proof of origin (e-PoC) is also planned, where proofs of origin can be stored centrally, where they are accessible to customs authorities.
Swedish Customs' Implementation Schedule
Swedish Customs' Implementation Schedule indicates at what point in time different systems are developed. At the end of the arrows, economic operators should have submitted all required information, in accordance with the new legislation and in the new or upgraded systems.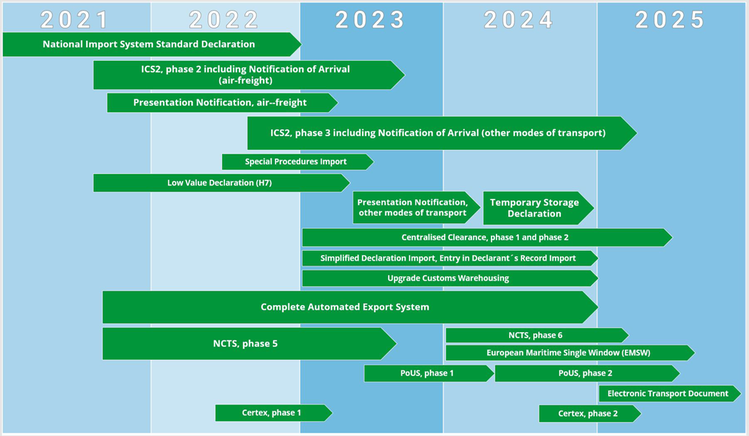 What is updated: Teknisk ändring