Is my parcel at the Swedish Customs?
If your parcel has not arrived, get in touch with the company that carried your goods. This may be Postnord or a forwarding agent.
How does the package arrive to you from a country outside the EU?
When ordering goods online from a country outside of the EU, you parcel will pass several steps before reaching you. The steps are the following:
The parcel arrives in Sweden.
The forwarding agent assumes responsibility.
The forwarding agent submits your customs declaration.
Swedish Customs receives your customs declaration.
Your customs declaration, if correct, is approved.
The forwarding agent sends you payment details.
Once you have made the payment, the parcel will be sent to you!
In some instances, you will be paying Swedish VAT at the time of purchase, and as a result the parcel will be delivered to you when it arrives in Sweden. In such cases, you should not pay VAT to the forwarding agent.
The parcel is with Postnord
When a parcel is marked "under importbehandling" or "held by Customs", it is at Postnord's charge registration department. Swedish Customs cannot help you here. In periods with large volumes of parcel traffic, it may take several weeks for a parcel to reach you, the customer.
To be able to track a parcel that has failed to arrive, Postnord needs the submission number the consignor was given when he or she sent the parcel.
Read more about posted parcels and letters (information from Postnord).
The parcel is with a different forwarding agent
If you have chosen the forwarding agent delivering your parcel, for example DHL or Schenker, the forwarding agent will make out your customs declaration. Contact your chosen forwarding agent to request further information if you have not received your consignment.
If you do not know the forwarding agent handling your consignment, please contact the consignor.
The parcel is with Swedish Customs
Swedish Customs can confiscate or seize parcels containing goods that it is not permitted to bring into Sweden or for which the importation requirements have not been satisfied.
If Swedish Customs has confiscated or seized your parcel, we always inform you that we have the parcel and are holding it for further investigation. Handling times vary. Swedish Customs will not return parcels to the consignor.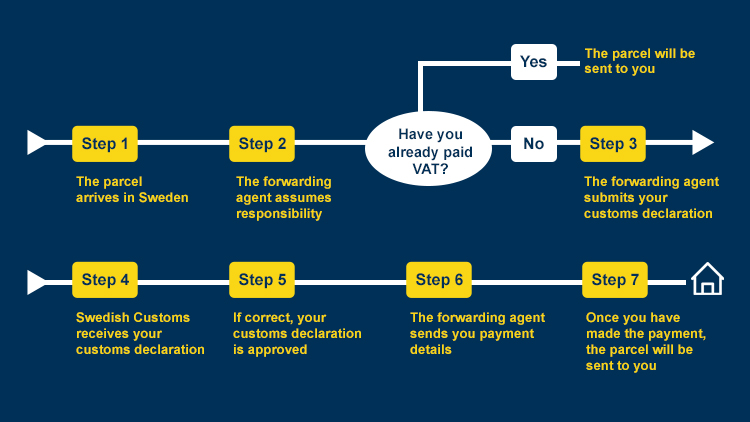 What is updated: Technical change